For someone who is just starting out, is there a formula or roadmap for getting started with your own craft distillery?
The short answer is, yes.
Of course, a business development plan is essential. It forces you to look at some of the difficult-to-answer questions. Things might not always go to plan, but this helps you think through most questions and scenarios.
Watch the video or continue reading to find out more about the general process for starting your own craft distillery.
STEPS TO START A DISTILLERY
Your success starts and ends with your business plan.
Knowing your capital/assets and your costs will help give you a more realistic timeframe for how long it will take before you start to generate actual take-home profits.
Here's a quick breakdown of what your distillery business plan might include:
A. Business Objectives and Budget
Start with the basics and answer some of these questions:
Why are you starting your distillery?
What's your mission/vision and goals? Executive summary?
What are your strengths, weakness, opportunities and threats (SWOT analysis)?
What's the market like and how can you be successful?

What's your financial plan and what's your break-even analysis?

Will you outsource the spirits or will you distill yourself?
What will your prices look like?
What type of physical location will you need?
B. Target Market
As part of your distillery business plan, you'll also want to know your target market and product viability, which can help validate your success before heavily investing.
Some market questions to consider might be:
Who is your target audience?
What is the size of the overall market?
Who are your main competitors and what's behind their success?
C. Branding
Why do consumers spend two to three times on one product over another? A lot of times, the products are indistinguishable, so it really comes down to the brand and marketing.
Some branding questions to consider might be:
What is your brand's story?
What does your target market value? How do you want your audience to view your brand?
What makes your brand better/different than everyone else?

What makes you unique?

What's your key message? What might a tagline look like?
What's your "voice" and personality?
D. Startup Steps
Become familiar with the formal processes of starting a business. This will help ensure your business is a real entity and all of your ducks are in a row for a smooth start.
Some startup questions/items to consider include:
What type of business will it be? (LLC, S-Corp, etc.)?
Have you researched your business name?
Once you have your name, be sure to register it with your state agency.
Get a federal tax ID number and possibly a state tax ID number.
E. Accounting
You'll want to open a new business bank account for your distillery, which will help in case you're ever audited, but it also shows customers and suppliers that you're a professional business.
You'll also want to research an accounting/tracking plan that works for you, which will also help when you file your taxes. To start off, you can go with free resources, but then you might need to upgrade as you grow and your finances become more complicated.
F. Permits and Insurance
You'll want to be aware of any needed permits and licenses. The Alcohol and Tobacco Tax and Trade Bureau site is a great resource to find a lot of what you need. Not having the proper paperwork could result in fines or even being shut down.
You'll also want to be aware of the types of insurances that are available for distilleries.
G. Design
At this point, you've done a lot of the hard work and can start to think about more of the fun things like logo and bottle design.
Some design questions to consider might be:
What do you want your logo to look like? How does it convey your brand?

There are great sites like fiverr that you can outsource the design.

What kind of bottle conveys your brand and your story?
What does your packaging look like?
If you have a store-front, what will that look like?
H. Marketing
You can have the best product in the world, but if no one knows, it will never be successful.
Some marketing questions to consider might be:
What is your marketing strategy?
Where is your audience and how can you get in front of them? What is their preferred social media platform?
What tools are available (either free or paid)?
What's your marketing budget?
What will your website look like? How will you drive your audience to your website so they can learn more about you?
What "keywords" are people searching to find you?


QUICKEST WAY TO MARKET
There are things that you're going to need to accomplish to get a legally operated still up and running. But in terms of exactly what that is depends a lot on the products and processes that you want in your in your distillery.
The quickest way get started is to forgo distilling yourself and have it made by a third party. Some distillers just own the brand and others make every drop of alcohol.
An optional third step would be to apply to become a Distillery Retail Outlet Agent. That would be needed if you want to sell your products by the bottle to consumers at your distillery or licensed tasting room.
Here is a downloadable PDF from the Oregon Liquor Control Commissions that breaks down the steps for manufacturing and wholesaling distilled liquor in Oregon.
MAKING YOUR SPIRITS
It will probably take you a year or so to get your plant up and running, and that's before you even start making spirits, much less distilling them.
So it's incredibly important to have a sound business plan. You'll need to be prepared for the time and expenses necessary to run with whiskey in your plant.
To start making your own products, the simplest spirits to make are the "crudest." If you're making whiskey, for instance, fermentation doesn't need to have fancy equipment for fermentation and distillation.
But, of course, it takes a while to get it to market, unless you're selling it as "white dog".
UPSIDE OF GIN
There are quite a lot of gins out there. Neutral alcohol is easy to come by, and new distillers can basically dial in any flavor they want, provided they're not using anything toxic. Of course, gin has to contain juniper, but other than that you're able to add in what you like.
In theory, you can make gin in the morning and drink it in the afternoon. So, you don't have to hold huge inventories, making cash flow much easier.
HAVE A STAPLE PRODUCT
No matter what you want to produce, make a staple product that is going to satisfy most of your cash flow requirements (and your consumers). Once that's established you'll be able to play and make the products that you perhaps really want to make and build your business that way.
STATE DISTILLERS GUILD
Your state distillers guild will be a great resource for networking and learning more about what other folks are doing to be successful.
The American Crafts Spirits Association (ACSA) has a helpful page that lists all of the distillery guilds for each state.
---
Related Distillery Posts You Might Be Interested In
---
About Paul Hughes, OSU Fermentation Science Instructor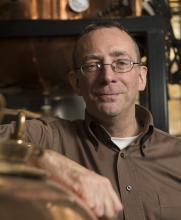 Paul Hughes, Ph.D., joined Oregon State University to establish a dedicated distilled spirits program. Paul holds a Master of Business Administration with a specialism in innovation and he teaches, trains and consults internationally.
He has co-authored two textbooks (one on beer, one on whisky), more than 60 peer-reviewed and conference papers and has been granted four patents.
Paul teaches the five-day Distillery Startup Workshop where attendees can learn practical tools and techniques to successfully begin and maintain their own craft distillery.