What's the difference between whiskey, bourbon and scotch?
And can you tell the difference by taste alone?
Watch the video or continue reading to find out!
Legal Definition of Whiskey, Bourbon, and Scotch
Legally, whiskey, bourbon and scotch are all defined in very specific ways.
What many people don't realize about scotch, for example, is that about 50% of the spirit is made out of wheat, maybe 10% from corn and the rest from malted barley.
It's interesting, then, that we often think of malted barley as the main ingredient for scotch. Although that is the case for single malt scotch, most blends are majority wheat-derived spirits.
Bourbon, on the other hand, requires 51% corn. So, in principle, it's quite different from scotch. Bourbon also can't be aged above 62.5% alcohol, whereas most whiskeys age at 63.5%. So, the differences are slight, but they are there.
From a legal point of view, these spirits are defined specifically and distinctly. However, it can actually be quite difficult to put them side by side and confidently say that's a bourbon, that's a scotch and that is another type of whiskey.
If you would like personalized one-on-one coaching and instruction on how to open your own distillery and avoid common mistakes, you can read more about Oregon State University's Distillery Startup Workshop.
In the expert-led five-day workshop, you will:
Learn essential information on relevant practical aspects of making a new spirit and finishing the product.
Interact with practical demonstrations of distillation.
Address the challenge of adjusting alcohol content to legal requirements.
If you'd like to dive deep into the business side of starting and running a distillery, you can learn more about Paul's new Foundations of Distilled Spirits Business and Essential Training course.
Whether you want to start a distilling business with gin, whiskey/whisky, and anything else, this two-day workshop will help you avoid costly mistakes and shorten the time from idea to execution.
---
Related Distillery Posts You Might Be Interested In
---
About Paul Hughes, OSU Fermentation Science Instructor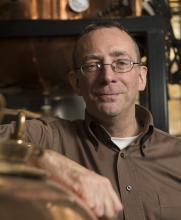 Paul Hughes, Ph.D., joined Oregon State University to establish a dedicated distilled spirits program. Paul holds a Master of Business Administration with a specialism in innovation and he teaches, trains and consults internationally.
He has co-authored two textbooks (one on beer, one on whisky), more than 60 peer-reviewed and conference papers and has been granted four patents.
Paul teaches the five-day Distillery Startup Workshop where attendees can learn practical tools and techniques to successfully begin and maintain their own craft distillery.