When it comes to aging spirits such as whiskey, brandy, and some tequilas, distillers have a couple of options. There is, of course, the traditional approach of aging in barrels (usually oak) for four, ten, or even twenty years.
But what about processes that artificially shorten that time to market?
Watch the video or continue reading to find out more about fast aging vs slow aging spirits.
New Path For Entrance
Smaller distillers have recently put a lot of emphasis on trying to accelerate the aging process. For new distilleries, aging can be a huge barrier to entry that emerging technologies can help alleviate.
Pros and Cons
Of course, there are downsides to accelerated aging. It can be difficult to match a conventionally aged product to a fast aged product. This means there is likely little interest in established brands who don't want to alter their existing offerings or potentially jeopardize their brand.
For new brands who are in the process of developing their products, however, fast aging can provide an opportunity to be more responsive and ease cash flow issues.
Fast Aging Spirit Technology
There's one accelerated aging technology (which won't be named) whose inventor said, "I can make ten-year-old rum or new-make rum, but I can't get anything in the middle." So for them, the aging process just gives it that little something that tastes around ten years old.
Oregon State University is currently testing accelerated aging in the fermentation lab with wood and other botanicals like juniper and cardamom.
---
Related Distillery Posts You Might Be Interested In
---
About Paul Hughes, OSU Fermentation Science Instructor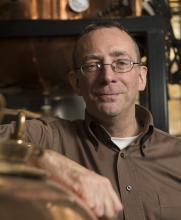 Paul Hughes, Ph.D., joined Oregon State University to establish a dedicated distilled spirits program. Paul holds a Master of Business Administration with a specialism in innovation and he teaches, trains and consults internationally.
He has co-authored two textbooks (one on beer, one on whisky), more than 60 peer-reviewed and conference papers and has been granted four patents.
Paul teaches the five-day Distillery Startup Workshop where attendees can learn practical tools and techniques to successfully begin and maintain their own craft distillery.
If you'd like to dive deep into the business side of starting and running a distillery, you can learn more about Paul's new Foundations of Distilled Spirits Business and Essential Training course.
Whether you want to start a distilling business with gin, whiskey/whisky, and anything else, this two-day workshop will help you avoid costly mistakes and shorten the time from idea to execution.