Post by Andrew Millison
The next leg of our journey through India's revolutionary water projects begins in West Bengal.
If you missed it, you can read the first part of the journey where we went from bedrock to bounty!
In the second half of the trip, I spent five days touring and filming projects with a Kolkata based NGO that has worked in over 300 villages for nearly 40 years: the Development Research Communication and Services Centre (DRCSC) founded by Ardhendu Chatterjee in 1982.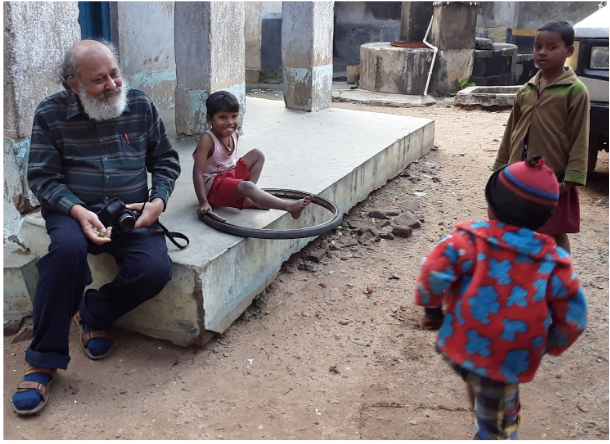 Ardhendu Chatterjee laughs with tribal kids in the village of Somenath Besra, West Bengal, India.

One of the amazing things about this organization is that they have sought out the most marginalized populations on the most marginal lands to work with to develop ecologically harmonious self reliance.
This means working with tribal communities in remote locations with challenging soil and rainfall conditions.
Water Harvesting


So we journeyed far and wide throughout several districts of West Bengal to see a wide diversity of projects. My particular interest for this journey are the water systems, so we toured many of their water harvesting and reservoir development projects.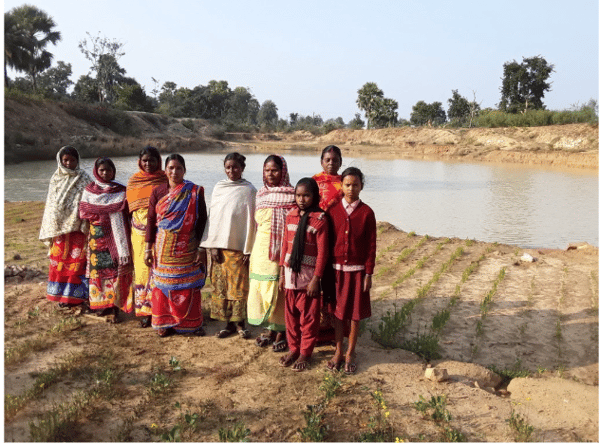 100 villagers dug this reservoir by hand in 90 working days. The design is innovative because the pond is built in terraces, and as the water level in the pond drops in the dry season, new terraces are revealed which are then planted with crops that are sub-irrigated by the reservoir's water table.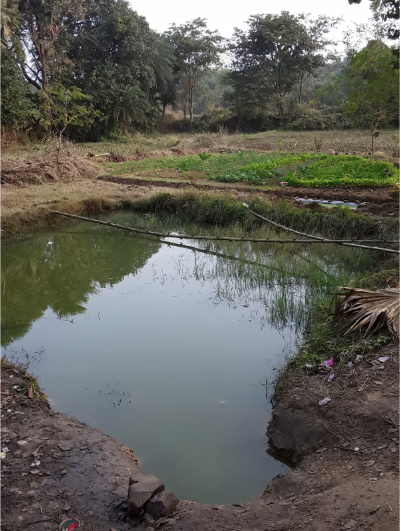 Small farm ponds irrigate diverse vegetable gardens and perennial hedgerows, enhancing water and food security.
Most Integrated Permaculture Organization

I was struck by the depth and integration with which DRCSC works on rural development. They are committed to empowering people by providing the skills to assess and solve their own problems.
Their "permaculture" systems are masterfully designed and they are constantly working to evaluate their results and improve their farming and teaching methods. Even though they are not using the word "Permaculture", I personally consider them the most integrated and effective permaculture organizations I have ever witnessed.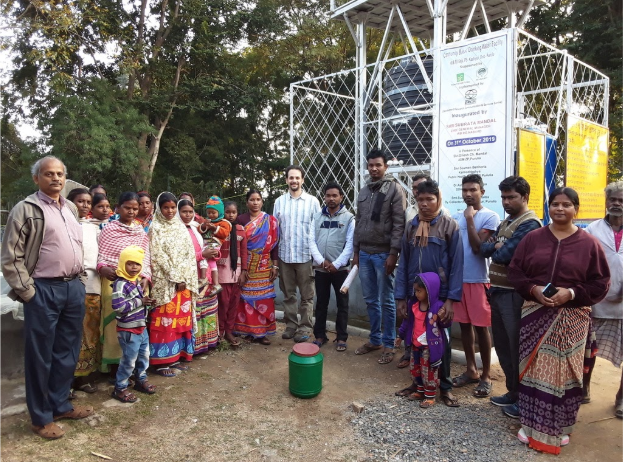 Standing with villagers and DRCSC staff in front of a water purification system whose waste water is feeding a thriving vegetable garden.
Suhana Spices

After leaving West Bengal, the final leg of the journey took me to the state of Maharashtra, where I had been invited to visit a 3-generation spice business called Suhana.
Anand Chordia, my host and the grandson of the founders, has pioneered that company's production and distribution methods creating the first LEED Platinum certified industrial building in India, which is Suhana's distribution warehouse.
The warehouse not only is net zero in energy use; it is also net zero waste. This means no net energy is used in an acre warehouse where summer outdoor temperatures exceed 100 degrees F. That warehouse is surrounded by permaculture gardens, harvests rainwater, and treats its own wastewater using biological methods.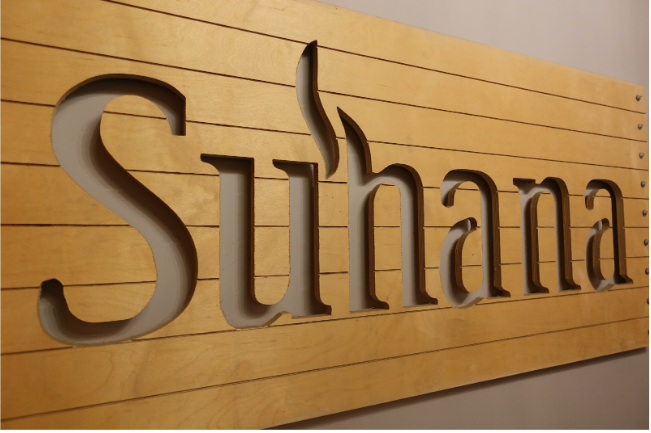 Touring the Suhana factory and warehouse near Pune, Maharashtra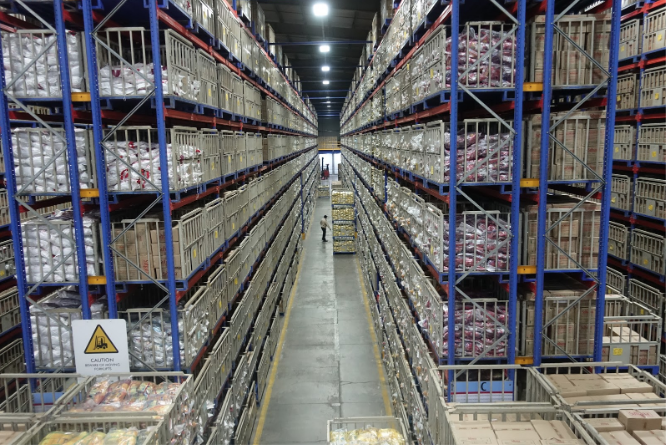 This factory is utterly mind blowing. It produces a surplus of energy, is surrounded by permaculture gardens, and is stacked floor to ceiling with Masala under its entire one acre roof!
The Eco Factory Foundation

In addition to the warehouse, the spice factory hosts a waste management park with many innovative demonstrations that is set up as an educational facility for the factory's many visitors. Anand started The Eco Factory Foundation (TEFF) which promotes ecological farming and industrial practices. I had the chance to tour these innovative facilities, as well as consult on the design for a 55 acre ecovillage development that the foundation is working on. I was awestruck by the scale of operations and the diversity of permaculture related activities that a company as big and established as Suhana is involved in.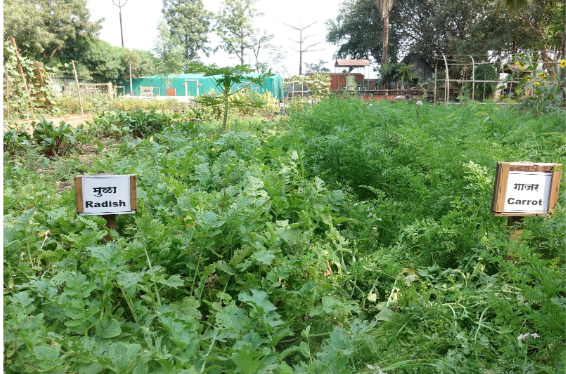 Educational farm located on the factory grounds.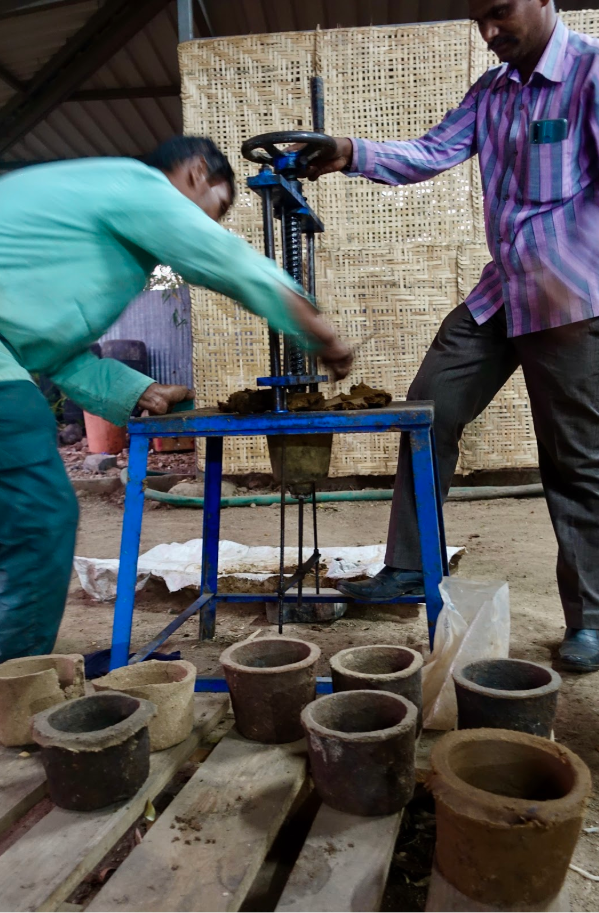 Making cow dung planting pots at the Eco Factory Foundation's waste management demonstration park.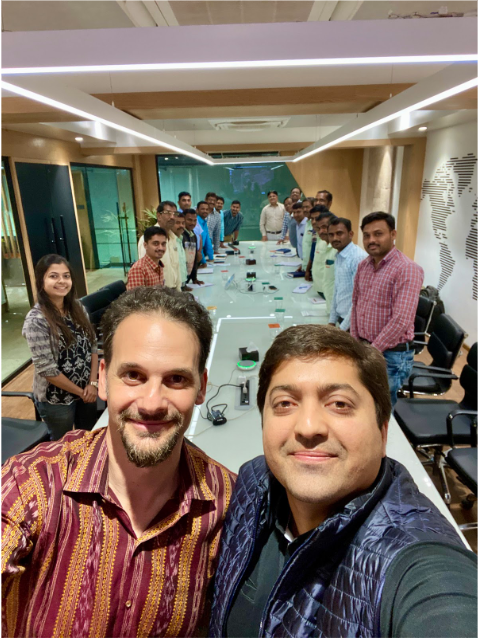 This is the agriculture team of The Eco Factory Foundation. We talked about implementing Permaculture on their many farm projects.
The City of Seven Forts

From Pune we travelled south to the city of seven forts, Satara, to visit some of the spectacular work of the Paani Foundation.
There's a lot of background to this story.
It begins with a super famous Bollywood movie star, Aamir Khan, who became aware of India's water crisis as well as the solutions that were prevalent among a number of villages who had restored their depleted groundwater through extensive water harvesting and water management.
Aamir, along with a cohort of strong collaborators, began a contest to see which village in the state of Maharashtra could implement the most water harvesting structures with the highest quality of planning and construction in a 45 day period, timed in the dry season before the monsoon rains. Villagers were chosen from each area to undergo an educational program on watershed management, and then the contest began.
To date, there have been over 10,000 village contest entries, and over 1,000 of those villages have completely solved their water problems and restored their water tables.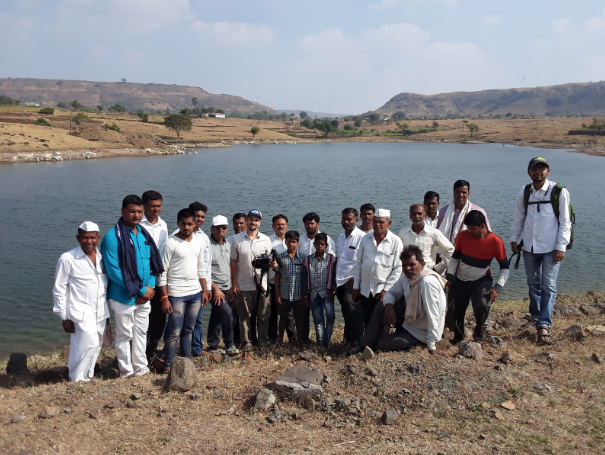 Reservoir in the village of Garavadi, Maharashtra where they constructed water harvesting structures over nearly 2,500 acres, restoring their water table in just one season of rainfall!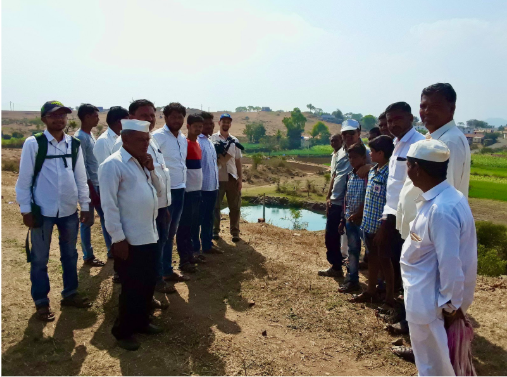 Down side of the renovated reservoir, a full well and green fields are the result!
Filming with the Paani Foundation's Chief Advisor

I spent a couple of days touring some of the winning villages and filming with the Paani Foundation's Chief Advisor, Dr. Avinash Pol. It was an adventurous ride through the hinterlands of these villages to see the extent of the work undertaken, and we were greeted with warm hospitality and large groups of very enthusiastic people who were very proud of the labor they had done.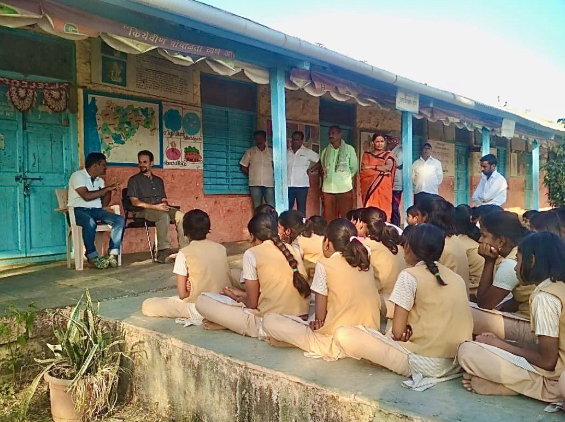 Talking with school children in the village of Velu, Maharashtra. These folks won the prestigious Water Cup a few years back and completely solved their water crisis!
Water Transformation

We went to villages that just a few years ago did not even have drinking water, let alone any water for farming.
These were villages on the brink of collapse and migration, which are today thriving and wealthy.
The transformation took place in one 45 day period of extensive work, followed by one rainy season. The very next season after the monsoons, the water table is full enough for a dry season crop to be planted, and the transformation occurs.
Within just a few years, people are downright prosperous from their farming activities and the villages are green with crop and forest production. There is so much more than I can explain in the blog post, so stay tuned for the videos that I filmed, which Ii will be editing over the next months and making available on Youtube.
Also check out the Paani Foundation's Youtube channel to see the excellent videos they have produced.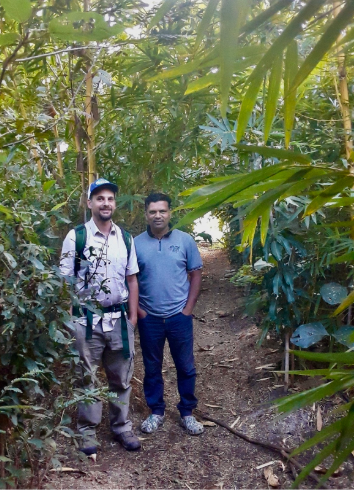 With the Paani Foundation's Dr. Avinash Pol in one of that organization's reforestation test plots.


Links In This Post:


You Also Might Be Interested In:


Continue Your Permaculture Journey


If you'd like to learn permaculture in-depth with personalized feedback, you might be interested in our upcoming online permaculture courses. There are no prerequisites and you can login and access the course when it's most convenient for you.